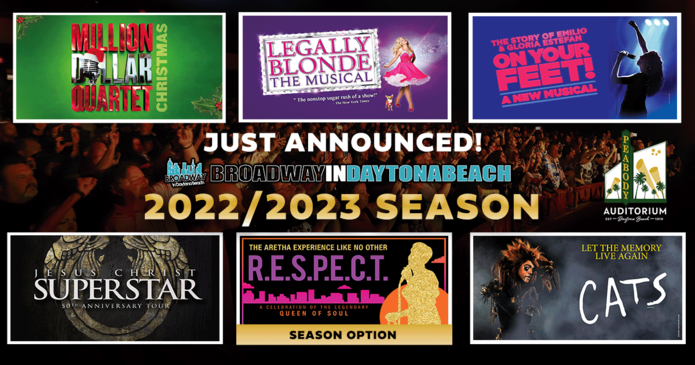 BROADWAY IN DAYTONA BEACH
Subscription Hotline: 386-671-3462 ext. 2 (Mon-Fri, 10-5)
The wait is finally over! The Roberts Group is proud to present the 2022/2023 Broadway in Daytona Beach season at the Peabody Auditorium. Enjoy award-winning musicals with your family and friends by becoming a season subscriber! As a season ticket holder, you are certain to never miss a sellout, get the best prices & own great seats for every show.
Join us for Broadway in Daytona Beach's 2022/2023 season LIVE at the Peabody Auditorium!
Click here for the 2022-2023 Broadway in Daytona Beach Brochure.
Current Subscribers:
Current season subscribers can renew their season ticket package by submitting the season ticket form via email to PeabodyBoxOffice@codb.us or by calling the Peabody Box Office at 386-671-3462 ext. 2.
To find your price levels and view seating a seating chart, please click here.
Renewal Deadline:
The renewal deadline for current subscribers is Friday, August 12, 2022.
New Subscribers:
New subscriptions for the Broadway in Daytona Beach 2022/2023 season are not on sale yet to the public. Sign up for our waitlist here to be notified when new subscriptions are available.
FAQ:
When can I purchase tickets to individual Broadway shows?
Individual tickets to the Broadway shows in the 22/23 season will be available for purchase later this Fall. Sign up for our waitlist here to be notified when tickets go on sale individually.
How can I change my current seats?
You will need to renew your subscription and request a change of location at the time of renewal. You'll receive an invitation later this Fall to change your subscription seats after the renewal period has ended.
When can I buy additional tickets?
Additional tickets to season shows will be available when each show goes on sale individually.